Tinsley seemed to adjust his first week in his new home. I spent a couple of hours each evening to show my love and support for him. I showed him how I organized each drawer for his T-shirts, pajamas, and underwear. I showed him how I arranged his closet. Since Tinsley can't carry on a conversation with much clarity, I mostly sat with him to be emotionally present. Sometimes I kept him company while we watched TV. When he needed a smile, I gave it to him. When he spoke, I nodded to affirm his attempt to make conversation. When he was ready for bed, he would lie down. I would put my chair right beside his bed and hold his hand for another thirty minutes. When he fell asleep, I headed home.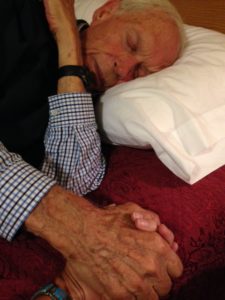 But his sweet personality changed beginning the second week of living there. 
"Why did you do this to me?!" he asked.
"I followed your doctor's medical advice to keep you safe," I replied. "You were in the doctor's office with me when Dr. Booton said "It's past time. Tinsley needs a higher level of care."
Tinsley didn't remember that appointment. He observed other residents with their walkers and wheelchairs. He became agitated.
"See that?!" he asked while pointing at a woman in a wheelchair. "This is just ridiculous!" I interpreted his comment to mean that because he didn't need help with walking, he didn't belong there.
Tinsley remained convinced that he shouldn't be there. I began to doubt myself. Did I make the right decision for Tinsley? Did I hear God's voice accurately? Was it the right time? When I observed the majority of residents compared to Tinsley, I have to agree with him. He looked like a misfit. Unlike the other residents, Tinsley dressed neatly and had no mobility issues. Maybe this decision was premature.
I decided to call a family meeting. They had interacted with Tinsley since Mother's death and have seen his quick decline. They also went through this kind of decision with their own parents. They listened intently as I shared tears of pain and discouragement. After an hour of dialogue, they reassured me that Tinsley needed more care than I could ever give him at home. They shared multiple reasons to support their conviction that I have done all I am able to do for Tinsley.
But there was one person who felt it was the wrong decision, and he had no difficulty communicating that to me.
I showed up one Saturday to have supper with him. When he stepped into the dining room with me right behind him, he turned around and walked out of the dining area. I didn't think much of it the first time. Then he would try again. He walked toward his table and saw me joining him, and he turned around and said, "No!" and walked out again.
"Tinsley, do you want me to leave?" I asked exasperated.
"YES!!!" he said angrily.
"I'm leaving now," I said.
Each day that I showed up, it appeared that I was the trigger for his anger. When I arrived in the community room, he was calmly watching TV with other residents. But as soon as I hugged him and said hello, within five minutes he paced around the facility. He vented his frustrations.
"I need to get out of here," he said. "Did you come in your car?" he asked.
"Yes," I replied.
"I want to go home," he said.
"This is your home," I said.
"It is NOT!"
After a month went by, I decided to talk with the doctor. I expressed my concern that Tinsley seemed to have enough awareness to know what is going on.
"I need a second opinion. Did I make the right decision for Tinsley?" I asked. "For someone who has declined rapidly since my mother died, he sure seems to have clarity on what's going on. He does NOT believe he needs to be here."
"I have been doing this for sixteen years, and I promise you he is where he belongs," Dr. Woodall said. "When I evaluated him, he became teary at times. He is still grieving the loss of Betty Ann. He is also deeply frustrated at his own loss of not being able to think clearly. He knows he's confused, but can't tag why. So there are many losses going on."
The doctor and I agreed that I should not see Tinsley for at least a week to help him acclimate. I waited nine days because Tinsley's sister would be in town to see him. We decided to see him together, which we hoped would be encouraging to Tinsley. Aunt Kathy brought a beautiful gift basket full of snacks Tinsley likes.
Aunt Kathy and I spent two hours with him, and she experienced seeing his anger and negativity. When Tinsley said, "I don't belong here," she would try to reassure him that he is safe here. When Tinsley vented his frustrations, she coached him to think positively to help him make the best of his situation. Tinsley didn't care to hear that as he looked the other way. He remained agitated and unsettled. Aunt Kathy decided to lean on a tradition that Papa Harvey had with her and Tinsley as children. While sitting on patio chairs, she grabbed our hands and invited Tinsley and I to recite the Lord's Prayer with her. Tinsley knew it by heart and seemed to be calmer when we were done. When we left the facility, Aunt Kathy could see what I have been enduring the majority of the time I've been with him. As we drove back home, she said, "That is NOT Tinsley. It IS the disease speaking."
It has been a couple of weeks since her visit, and Tinsley has not improved emotionally. In fact, I believe he has worsened. One Sunday afternoon I came to visit him and found him in the community room watching TV. When I joined him, he stood up to walk away from me. He turned around so that our eyes locked.
"NO! Do you HEAR me?!!" he said loudly. I just got there! I never know exactly what he's trying to say, so I'm forced to read between the lines and observe body language. It was clear that he didn't want me there. So I said goodbye and left. It was a five minute visit.
He has become physically aggressive in the last week. When a resident asked me a question and I turned to respond, Tinsley grabbed my forearm and angrily said, "No!" His reaction isn't rational, but it is heart-breaking to experience his hostility. The doctor is working on the right balance of medication to help Tinsley deal with his anxiety and his depression.
It has been a sad time for me. It feels like I have lost Tinsley. I have been grieving the emotional loss of Tinsley more than I have been able to grieve the loss of Mother. Though the doctor assures me that "it's the disease, not Tinsley," it's still hard not to take it personally. It's hard not to wonder if I am the reason he is so unhappy and angry. How do I know when it's Tinsley speaking or when it's the disease? It is so HARD to tell. Many family and friends are ready and willing to help him get out and play some golf, go to the club, have lunch with the guys, as he used to do. But right now, if any of us took him out, we'd never get him back in. He's already taken a patio chair and set it against the fence and tried to scale it. I don't know how long it will take for Tinsley to reach acceptance that he is where he needs to be. But at this rate, it appears that it will take another month or two.
I ask you to keep praying for Tinsley and his well-being. He has already lost fifteen pounds in three weeks. He said to me, "I've quit trying." He needs the Lord's peace and comfort. Please pray that the Lord will allow us to have a healthy relationship and that he would embrace it and appreciate it. The Lord knows how to heal Tinsley's heart. I know many of you are prayer warriors. If you'll continue to lift him up before the Lord, He can help Tinsley's heart rest spiritually and emotionally in His perfect peace. I also need prayer for wisdom on how often to visit him. I want to see him every day and make sure he never feels abandoned. However, that isn't prudent given Tinsley's emotional condition.